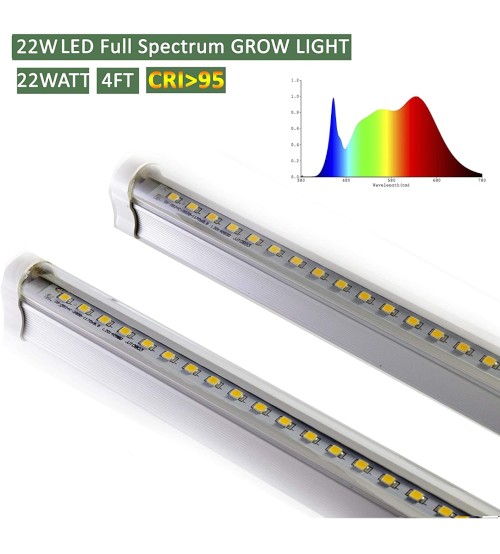 Description

22W Full Spectrum High Sunshine, (White) LED Tube for Indoor Hydroponic Farming and Plants (Pack of 2)
Indoor Plants Light, Garden, Grow Light, Hydroponics, Greenhouse, Aquaponics, Aquarium Light
Features and Details
22W Sunlight White Grow Full Spectrum (400-700nm) High CRI Light. It Features 15+ higher CRI than fluorescents and other LED lamps.
CRI Rating of 95+ covers majority of the PAR (400-700 nm) range and into the infrared range (730 nm) to increase photosynthesis via the Emerson Effect. High CRI light also makes plants look more vivid (deeper color tones) and easier to spot any issues with plant development.
Peak Intensity at BLUE(440-460nm): To promote germination, photosynthesis and overall plant growth at all stages of plant life, RED(630-660nm): To promote flowering and fruiting and increase yield directly; Greater GREEN Intensity: Useful in photosynthesis and regulates plant architecture.
EXTENDABLE DESIGN - i.e you could connect up to 6 fixtures together with seamless connectors or connector cords(provided in the package) | FEATURES - Full Spectrum | CRI>95 | Comfortable to Eyes and Indoor Use | Absolutely easy to install | Elegant Aluminium Base Design
APPLICATION - Perfect for potted plants, gardens, sowing, breeding, farms, greenhouse farming, flower farming, Hydroponics Farming | 1 YEAR WARRANTY
| | |
| --- | --- |
| Height | 3 Centimeters |
| Length | 119 Centimeters |
| width | 2.2 Centimeters |
| Colour | Silver |
| Material | Steel + PC |
| Type of Bulb | LED |
| Wattage | 22 Watts |
| Batteries included | Yes |
| Batteries Required | No |
| Manufacturer | Ponic Greens |