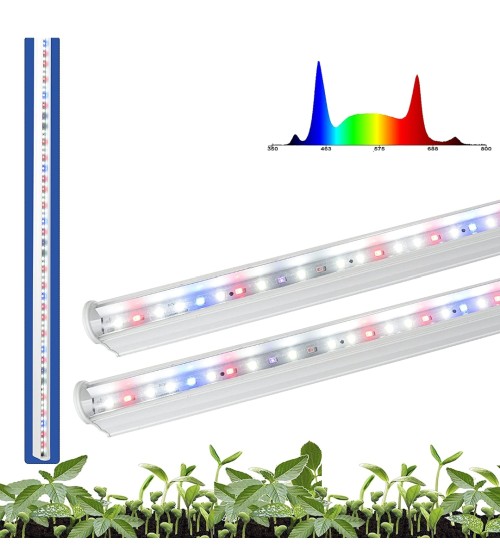 2Pcs 22W, 4Ft/120CM(1.2 Meter) Full Spectrum (400-750nm) Light is specially designed for Leafy Green Plants & Vegetables. With Added Far Red(IR :730nm), Deep Red(660NM), BLUE(450NM), UV(395NM) to full spectrum 6500K light spectrum, these grow lights have been tested to give up to 30% fresh Mass yield when tested with Lettuce, Micro Greens and other leafy green vegetables.
The Light spectrum cover the complete Photosynthetically Active Radiation range (400-700 nm) range and added Far Red range (730 nm) proves highly effective for photosynthesis and result in bigger Plant Leaves.
DAISY CHAIN compatible tubes with Borderless Tube connection capability of connecting up to 15 tubes from single power source | Upto 90% saving in wiring cost with both end power sockets | Complete connector based design enables ease of installation | 99% transparency PC transparent cover.
EXTENDABLE DESIGN - i.e you could connect up to 6 fixtures together with seamless connectors or connector cords(provided in the package) | FEATURES - Full Spectrum | Comfortable to Eyes and Indoor Use | Absolutely easy to install | Elegant Aluminium Base Design
APPLICATION - Perfect for potted plants, gardens, sowing, breeding, farms, greenhouse farming, Hydroponics Farming | 1 YEAR WARRANTY
PLEASE NOTE THAT THIS LIGHT CONTAINS SPACIAL WAVELGNTHS OF UV AND IR WHICH ARE MOSTILY INVISBLE TO HUMAN EYES AND THEY MIGHT APPEAR TO YOU AS DIM OR NOT WORKING. HOWEVER, SAME IS WORKING AS EXPECTED AND THE PRODUCT IS NOT FAULTY. BUYERS DISCRETION REQUESTED.
Description
22W Leafy Greens Full Spectrum LED Grow Tube In India for Indoor Plants Gardening Hydroponics Greenhouse Farming

Indoor Plants Light, Garden, Grow Light, Hydroponics, Greenhouse, Aquaponics, Aquarium Light

NOTE: Since this light uses 6500K full Spectrum LEDs which are already heavier on Blue wavelengths there is no need to add separate BLUE LEDs to the Light to modify the spectrum. The Light already contains blue wavelengths, contributed by Full Spectrum white LEDs. Buyers discretion is requested.

| | |
| --- | --- |
| Color | Silver |
| Style | Garden |
| Light Source Type | LED |
| Shade Material | Aluminium |
| Material | Metal |
| Item Weight | 0.5 Kilogram |
| Brand | Fluortronix |
| Wattage | 44 Watts |
| Base Material | Aluminium |