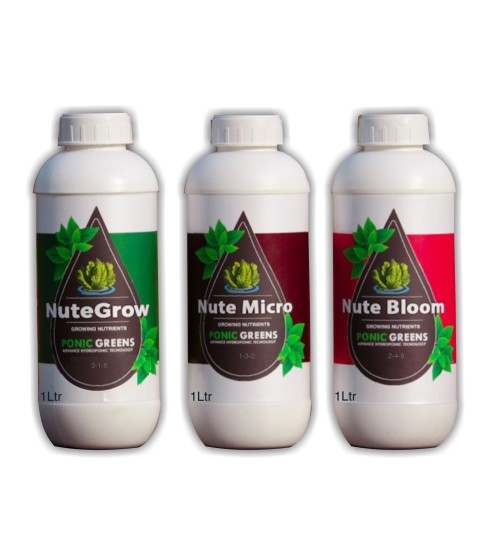 Ponic Green's 3 Part Nute Hydroponic Nutrient Set, comes with a combination of Nute Grow, Nute Micro & Nute Bloom.
Nutrients are added together simultaneously in water to grow plants by using method of hydroponics.
These Hydroponic Nutrients are for general plant use, which are used to grow any type of plant using hydroponic technology or soil-less methods of growing plants like in coco peat, vermiculite, and pearlite
PH Stable make's it easy to used
Simple Instructions for growers

High in Concentrate and highly soluble

100 % reliable
The Nute set of 3 (Nute Grow, Nute Micro & Nute Bloom) are natural and contain the 3 Primary elements for plant growth Nitrogen(N), Potassium (K), & Phosphorus (P) along with other natural Secondary Elements and Micro Nutrients essential for healthy plant growth giving you high yields with highly nutritious crops.