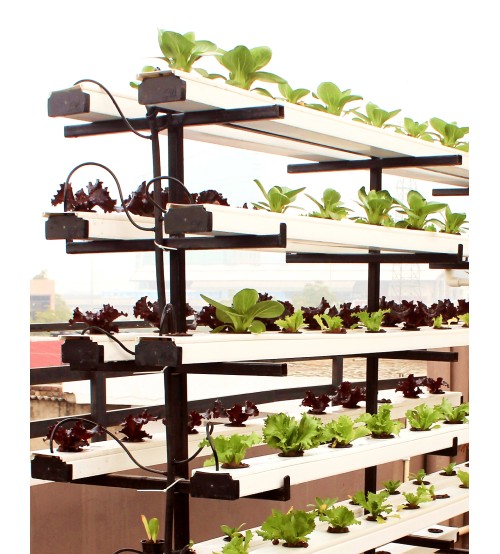 This vertical hydroponic system is designed to grow the maximum number of plants in the least amount of space, allowing you to grow 140 plants in just 9 Square feet of space. Being an amazing space saver with a solid and stable structure it can be placed in any roof top, balcony or multiple system can be connected together to give you high yields with minimum use of space.
The system Features 14 NFT Channels 7 on each side, size of channels 4 inch by 2.5 inch Sitting on a Zig Zag Frame
System includes:

-14 x NFT growing Channels,

-14 x Lid With 140 pre drilled holes
- Zig Zag coated Steel frame

-140 Net Cups

- Nutrient Reservoir ( Sump Tank)
- Submersible pump
- Feed and Drain Lines

- End caps
- LECA Grow Media

- Sample Nutrient
- 4 Packet Of Seeds
- All parts and fittings included.
- Easy Step By Step Video Installation Manual And Operational Guide
Free Installation Within Delhi NCR
Total Size: 6 feet Length, 1.5 feet Width, 6 feet Height.