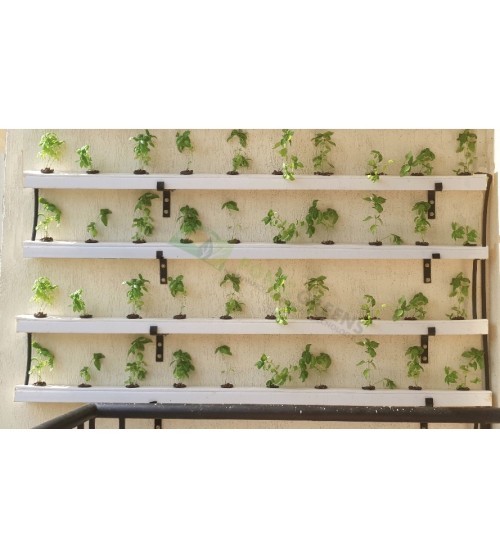 Transform any wall structure into a beautiful vegetable garden. Eat what you grow. With this start of the art wall mounted system you can grow up to 40 plants and it can be customised as per your requirement. This hydroponic vertical system guarantees to change the atmosphere of your space giving you fresh and healthily vegetables, growing just steps away form your kitchen.
System Features:
This is a vertical wall mounted system. Grows 40 Small To Medium Plants like Lettuce, Lefty Vegetables, Herbs, Chillys ect
Total Area: Size 6 feet Length x 6 feet Hight. System features 4 lengths of the 4 inch by 2.5 inch square NFT Channels mounted on a wall.
System includes:
4 x NFT growing Channels,
4 x Lid With 40 pre drilled holes
Galvanised Steel angles

40 Net Cups

Nutrient Reservoir ( Sump Tank)
Submersible pump
Feed and Drain Lines

End caps
LECA Grow Media

Sample Nutrient
All parts and fittings included.
TDS/PH Kit with 4 variety of seeds also included
Easy Step By Step Video Installation Manual And Operational Guide

Free Insulation Within Delhi NCR
Dimensions:
Total Area: Size 6 feet Length x 6 feet Hight (Can Be Customised From 3 feet Length Onwards)