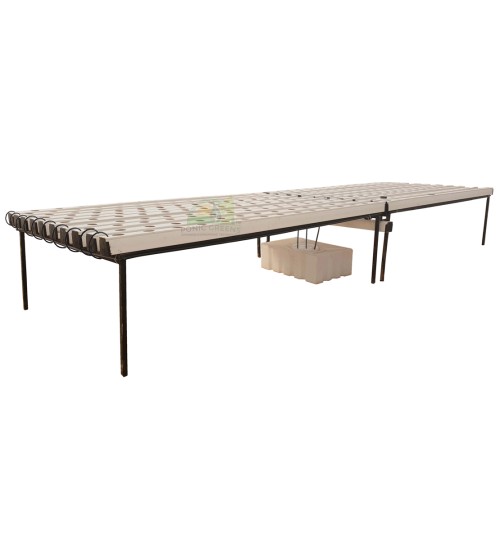 The Pro Ponic Grower System in for Commercial and Advance Growers. Allowing you to grow commercially, Covering just 120 SqFt space and giving you high yields of greens, herbs and other vegetables.
These systems are highly economical in terms of energy and nutrient usage as they use very little power witch supply nutrient through out the system maintaining all the essential minerals needed for plants to grow.
Large quantity of greens or herbs can be harvested on a daily bases and can give you an average yield of 100kgs to 120 kgs monthly.
Being a Pro Growing System It can be maintained by any one with none to little experience witch makes it easy to maintain and operate.
System Features
This System Grows 290 Small To Large Plants like Herbs, Lettuce, Broccoli, Peppers, Leafy and greens.
Total Size 20 feet L x 6 feet W x 2.5 feet Hight.
System features 20 Channels of 10 feet, with two Frames with 10 channels on one side and 10 channels on the other and a sump tank in the middle. The 4 inch by 4 inch square NFT Channels comes with a slidable lid for easy cleaning.
System includes
-2 Easy to Install Mild-Steel Stand,
20 x NFT growing Channels,
20 x Lid With 150 pre drilled holes
300 Net Cups
Nutrient Reservoir ( Sump Tank)
Submersible pump (90watt)
Feed and Drain Lines
Table clips
End caps
LECA Grow Media
Grow, Micro, Bloom Nutrient
All parts and fittings included.