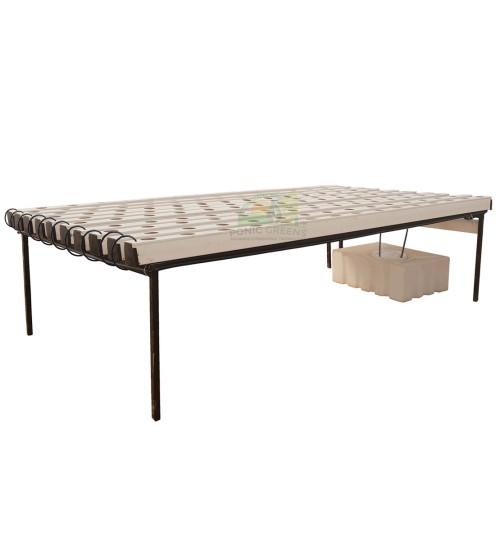 This ACE NFT System grows up to 150 plants using very little space. Allowing you to grow semi-commercially, at a Restaurant terrace, Hotel rooftop, or at your home rooftop or garden. Giving you high yields and highly nutritious vegetables with minium operating cost.
Being a Advance System it Is still easy to maintain as all channels come with a removable lid. The low watt Pump is Excellent at distributing the nutrient evenly within the system and plant roots are always exposed to nutrition rich water with plenty of oxygen at any given time.
System Features
This System Grows 150 Small To Large Plants like Tomatoes, Flowers, Lettuce, Broccoli, Peppers ect
Total Size 10 feet L x 6 feet W x 2.5 feet Hight.
System features 10 of 6 meter channels, the 4 inch by 4 inch square NFT Channels comes with a slidable lid for easy cleaning, and a sump tank.
System includes
-Easy to Install Mild-Steel Stand,
10 x NFT growing Channels,
10 x Lid With 150 pre drilled holes
150 Net Cups
Nutrient Reservoir ( Sump Tank)
Submersible pump (60watt)
Feed and Drain Lines
Table clips
End caps
LECA Grow Media
Grow, Micro, Bloom Nutrient
All parts and fittings included.
Dimensions:
10 feet L x 6 feet W x 2.5 feet Hight.