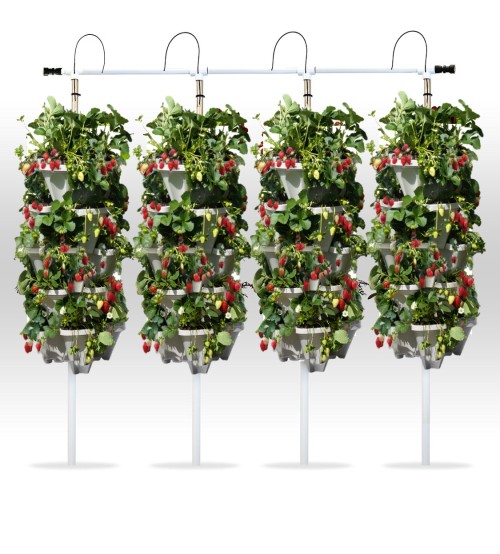 Our Ponic Tower is a Vertical hydroponic garden stacks 80 plant sites in a 1' x 9' space! Can be installed is any garden to grow more in less space.
Grow lettuce, tomatoes, peppers, strawberries, All type of herbs, and flowers
Hydroponics feeds nutrients at optimal times for optimal growth. Plants grow bigger, faster, and healthier when fed hydroponically. Automatic drip irrigation system is set and forget. The automatic timer turns the pump on/off. No more guessing games with watering or worrying about leaving town.
Garden from a natural, standing position. No more bending over, tilling, weeding, or amending the soil. Nutrients & Growing Medium included too! Specifically designed to provide superior nutrition during all stages of growth.
System includes
20 Vertical stacking pots with 4 planters per pot
Self watering Grid
MS inside support rod 1 inch
PVC out side support pipe 3 inch
Joining Ts (1 per tower)
Feeding and Drip Pipe
Soil-less Grow Medium MIX ( Coco Peat, Vermiculite, Per lite )
Hydroponic Sample Nutrients
Submersible Pump (40 Watt)
On/Off Automatic Timer
TDS & PH Water Testing Kit
4 Packet Of Seeds

Easy Step By Step Video Installation Manual And Operational Guide



Installation is included within NCR Only
Kit Includes a manual with a step by step guide and everything you need to know to install the system and stat growing,