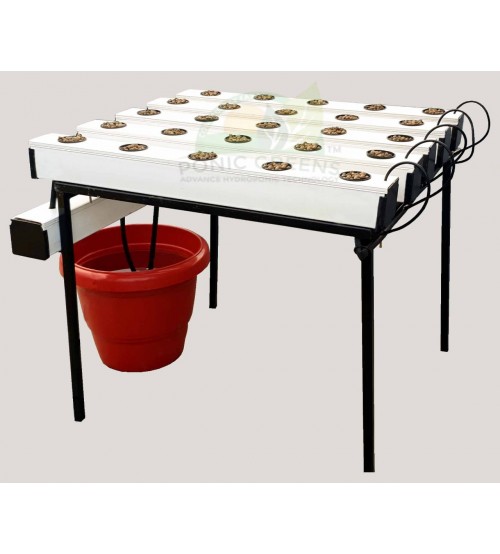 This is one of our most popular systems. Its compact and small and still growing 25 plants. This Hydroponic System is great for learning and a fun attractive system for any little space you can find, with the best features you can expect in our NFT range. User-friendly and it guarantees to give a successful harvest every time!
System Is easy to maintain, cost effective with a low Watt Pump Excellent at distributing the nutrient evenly within the system and maintains large volume of nutrient with a great supply of oxygen to keep roots healthy happy at all times.
System Features
This System Grows 25 Small To Large Plants like Tomatoes, Flowers, Lettuce, Broccoli, Peppers ect
Total Size 3 feet L x 3 feet W x 2.5 feet Hight. System features 5 lengths of the 4 inch by 4 inch square NFT Channels.
System includes
• -Easy to Install Mild-Steel Stand,
• 5 x NFT growing Channels,
• 5 x Lid With 25 pre drilled holes
• 25 Net Cups
• Nutrient Reservoir ( Sump Tank)
• Submersible pump
• Feed and Drain Lines
• Table clips
• End caps
• LECA Grow Media
• Sample Nutrient
• All parts and fittings included.
Dimensions:
3 feet L x 3 feet W x 2.5 feet Hight. (Can Be Customized From 3 feet Length Onwards)